New Business Incentive Recipients
---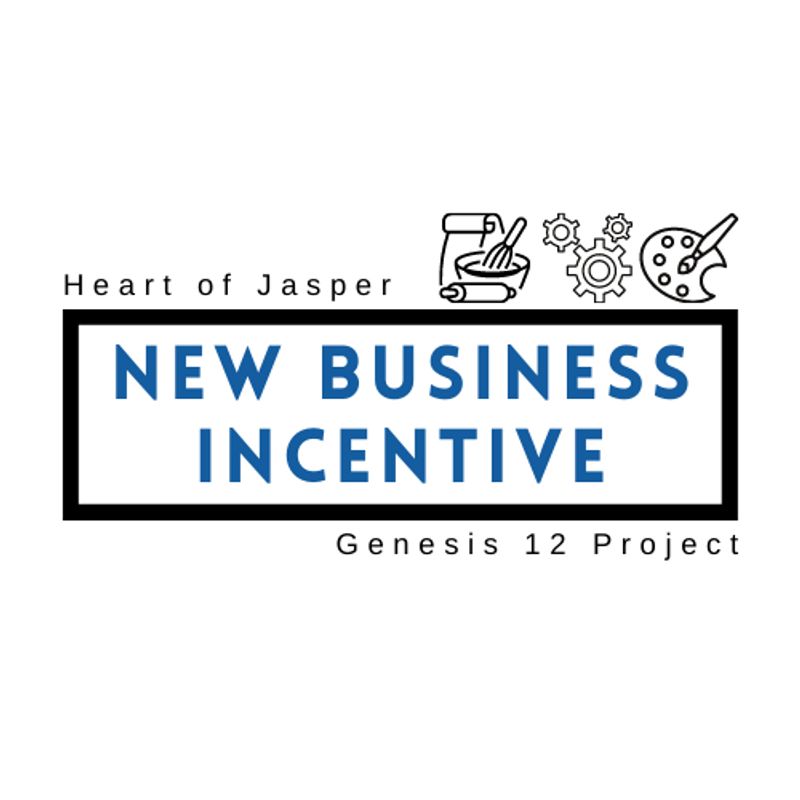 NEW BUSINESS INCENTIVE RECIPIENTS ANNOUNCED
Jasper Indiana- July 5th, 2022- The Heart of Jasper and Genesis 12 Project announce 2022 New Business Incentive recipients.
The Heart of Jasper New Business Incentive program in coordination with the Genesis 12 Project is intended to provide financial assistance for new businesses in the Downtown and Riverfront areas of Jasper, Indiana. The goal of the program is to stimulate retail growth and attract new businesses. The Genesis 12 donor has generously granted $97,508 to six local businesses through the New Business Incentive. The recipients of the grant will receive funding up to $20,000 to help their business grow. These recipients include Wood Capital Pizza, Downtown Fitness & Running, American Mercantile, Hoosier Blooms, Tell City Pretzel, and Café Pina.
The Wood Capital Pizza Truck serves fresh, wood fired Neapolitan Style pizzas to the community. The Truck can be seen parked around town some days or at special events such as the Downtown Chowdown. Wood Capital Pizza received a $20,000 donation from the New Business Incentive to continue to feed Jasper.
Downtown Fitness & Running offers fitness classes, plus running shoes and other equipment for purchases. They recently moved onto the Square in early May 2022 and have received a $5,000 donation from Genesis 12 to help expand their business.
American Mercantile offers a wide range of handcrafted and sustainable goods for men. From casual clothing, men's care, luggage, leather products, books, and gifts. Their goal is to make the customers look great & feel even better. The store recently opened its doors in early April 2022 on the Square. They have received a $20,000 donation from the New Business Incentive to jumpstart their business.
Hoosier Blooms has you covered when it comes to flowers. They sell locally grown and hand-cut flowers, beautiful blooms right from the farm to your home. They offer subscription services, delivery/pick-up bouquets, sympathy, prom, wedding, and fresh flowers. Hoosier Blooms also has "build-your-own" Bloom Bar parties hosted at their storefront. Hoosier Blooms started in 2020 as a quarantine conversation between two lifelong friends. Now the flower business just received $12,508 from the New Business Incentive.
Tell City Pretzels bakes and sells a unique, hand twist pretzel using a secret recipe under the trademarked brand name, Tell City Pretzels. The original pretzel recipe dates to 1858. Pretzels are baked in a "micro" pretzel bakery along with a variety of flavored pretzel pieces. The historical business recently made the move to Jasper along Jackson Street next to the Thyen-Clark Cultural Center and received $20,000 from the New Business Incentive.
Café Piña is a new restaurant in Jasper, IN, with a focus on creative, seasonal, and fresh foods. They are a versatile business with so much to offer. Not only do they have a standard menu full of breakfast, lunch, and brunch favorites, but also have a seasonal menu with unique offerings based upon what is available locally and what looks best at the market. They offer extensive coffee and cocktail programs, as well as bakery items with different treats every week. Café Pina offers custom cakes for events like birthdays, graduations, as well as catering, including charcuterie boards, grazing tables, and fully catered meals. Finally, they offer grab and go options for those who may not have time to sit down for a full meal. Café Piña. located in the River Centre, recently opened its doors on June 2nd and have received the final donation from the New Business Incentive of $20,000.
Once again, Heart of Jasper would like to thank the Genesis 12  donor for giving a total of $97,508 to support six new local businesses! This program was successful due to the partnerships from the Jasper Chamber of Commerce and the Small Business Development Center. Be on the lookout for more information regarding the next phase of the New Business Incentive soon. All information regarding guidelines, eligibility, applications, and how to get involved can be found on the Heart of Jasper website at www.heartofjasper.org.
ABOUT US:
Heart of Jasper is a 501(c)3 non-profit organization formed through the nationwide organization Main Street America. The mission is to create the epicenter of activity for the community by leveraging existing assets, transforming those in need, and instilling new energy through creative programs and collaborative leadership. The vision is to be the best small town experience for all.
The Genesis 12 Project was founded by a local couple because they know that they are "Blessed To Be a Blessing To Others". Locally, Jasper is blessed to have many small businesses that serve as a bedrock to the community; providing jobs, services, and vitality to many; all while positively contributing to our hometown culture. Small businesses may go thru difficult times or may struggle to get started, directly impacting families and the communities around them. The Genesis 12 Project desires to be a blessing where and however they are able; helping to change lives and make a difference in the long-term presence and stability in our community.