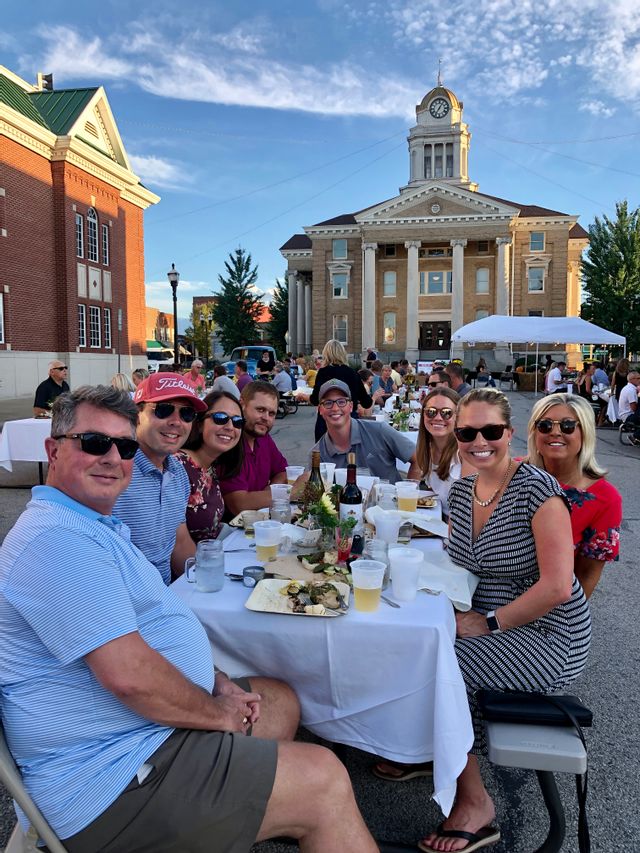 Heart of Jasper, founded in 2020, is a 501(c)3 formed through a nationwide program, Main Street America, and is recognized as an Indiana Accredited Main Street.
In a collaborative effort with several local entities including the City of Jasper, Jasper Chamber of Commerce, Dubois County Tourism, and the Greater Downtown Jasper Merchants Association, our mission is to create the epicenter of activity for the community by leveraging existing assets, transforming those in need, and instilling new energy through creative programs and collaborative leadership. Our vision is to provide the best small-town experience for all.
Heart of Jasper is structured with a Board of Directors and four main committees: Organization, Economic Vitality, Design, and Promotion. The committees are committed to moving downtown Jasper forward to advance positive changes in preserving historic buildings, supporting current and new local businesses, and enhancing the atmosphere to make the downtown a destination for our citizens and visitors.
Our History
In 2013, the City of Jasper adopted its Downtown + Riverfront Masterplan. This comprehensive plan outlined detailed steps for revitalizing the Courthouse Square and connecting the historic district to the work being accomplished by the Redevelop Old Jasper Action Coalition (ROJAC) along the historic riverfront just blocks away. ROJAC is responsible for instilling a sense of pride in Jasper's rich history with a number of preservation efforts. Several major public-private redevelopment projects have been led by them utilizing once blighted industrial areas and restoring and rebuilding iconic historic buildings. A replica of the original city mill and train depot are two examples. Restoring an 1800's log barn and authentic one-room schoolhouse are others.
Through the preservation lenses of these community leaders, developers understood the value of investing more that $30 million dollars to convert a former blighted cabinet factory complex into a multi-use facility with a new hotel and 77 market rate apartments called River Centre. A one-of-a-kind civic complex across the street, the Thyen-Clark Cultural Center, became the next collaborative community project and is now home to the Jasper Public Library and Jasper Community Arts. Jasper's iconic historic theater, the Astra, was completely rehabilitated through the efforts of the Dubois County Community Foundation and a group of young professionals that saw the vision of the Plan to bring entertainment to downtown. All this work culminated in formalizing Heart of Jasper.
The shared vision between the City, ROJAC, the Community Foundation, Jasper Chamber of Commerce, Dubois County Tourism, and the Greater Downtown Merchants Association combined with the grant writing and administrative work of Indiana 15 Regional Planning Commission, led to the successful creation of a strong collaborative leadership team. Careful consideration in establishing the official Heart of Jasper boundaries included all the aforementioned projects and serves as a connector to key redevelopment areas.