Happy Holidays from Heart of Jasper
---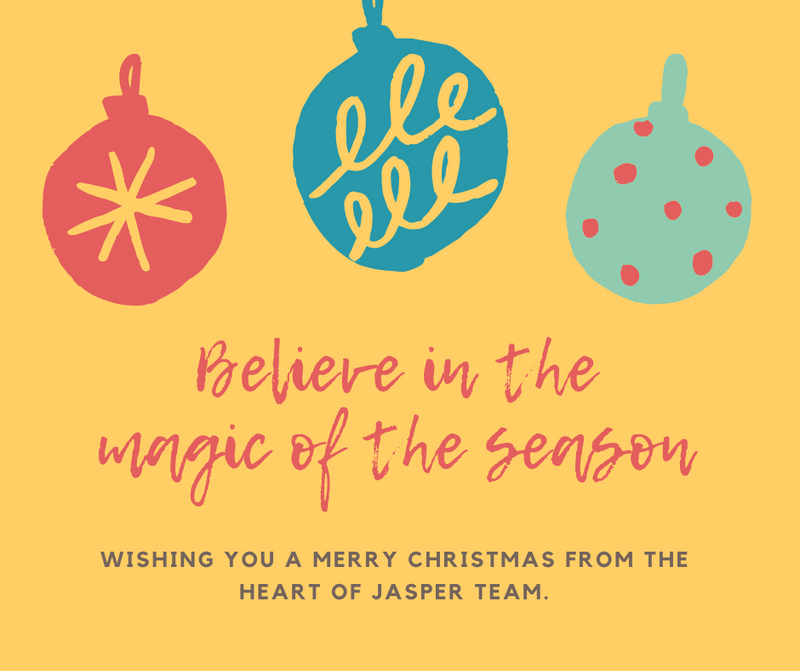 To Our Supporters:
Thank you, Thank you to each and every one of our supporters. We wish you the very best Merry Christmas and a Happy New Year! It was another fun and successful year for Heart of Jasper and we are looking forward to serving you again in 2023!
2022 Recap and Accomplishments:
Seven building owners received a total of $59,000 through the Façade Grant Program to improve and restore the exterior of their buildings. These projects totaled over $223,000 of private investments in our downtown.
$125,000 was granted by the Genesis 12 program to 8 businesses to start up or relocate to downtown
Volunteers planted flowers in the 17 planters along Main Street in the Spring and helped with the Christmas decorations in time for O'Tannenbaum Season.
The Downtown Chowdown food truck event was held at the River Walk Plaza April-October.
A wall mural was completed on the South side of the Finishing Touches building in partnership with Jasper Community Arts.
Free Movie Night showing Luca was held at the Cabby O'Neill Gym in partnership with Jasper's Backyard.
Farm 2 Fiesta, our dinner on Main Street, provided good fun and fun to 95 guests.
An Open House of 6 vacant buildings allowed for public tours.
Two pop up markets with 10 vendors were held in vacant building space.
Promoted businesses in support of the transformation of the downtown via the Courthouse Square and Revitalization Project.
2023 Projects
Façade Grant Program:
Round 3 of the Façade Grant program opened in November and the deadline to apply is Friday February 20th. We are planning to grant another $50,000 for façade renovations! Applications and Guidelines can be found at https://www.heartofjasper.org/facade-grant-program/
We want to thank the City of Jasper for this partnership and the funding to make this program possible!
New Business Incentive:
The New Business Incentive will continue through our gracious Genesis 12 Donor. Heart of Jasper is accepting applications for start up or relocating businesses to open in the downtown district. We have had a lot of interest and look forward to seeing new businesses join the downtown merchants! Application and guidelines can be found at https://www.heartofjasper.org/new-business-incentive/
We want to thank the Genesis 12 donor for continuing to bless others with their generous giving!
 Downtown Courthouse Infrastructure and Revitalization Project:
We want to support the merchants in every way possible during construction. We will continue to work on this plan as we learn more about the construction process. If you have any suggestions on how we can best support the businesses, please reach out to me! The plans for the project can be found here: https://www.jasperindiana.gov/category/subcategory.php?categoryid=42
 Alley Enhancements
We plan to enhance the alleys on the courthouse square to create a safe, welcoming and aesthetically pleasing atmosphere downtown to compliment the completion of the downtown revitalization project. Funds raised at the 2022 Farm to Fiesta event will be used to complete this project.
Banners and Signage
Design and create seasonal banners to hang throughout the district and better define the downtown.
Upcoming Events:
Community Appreciation Night February 16th at St. Benedicts Brew Works
Movies on Main-FREE Community Movies at the Astra January through April.
Downtown Chowdown on First Thursdays starting in April through October. Moved to Thursdays to tie in with First Thursdays at Jasper Community Arts.
Jasper in Bloom-celebrate Spring in downtown Jasper April through May.
3rd Annual Dinner on Main Street
More detail on the events can be found at https://www.heartofjasper.org/calendar/
I would love to hear your feedback, ideas, and/or questions. Please reach out at any time via email at [email protected] or via phone at 812-661-2881. Stay in touch by following us on Facebook, Instagram, and our website at www.heartofjasper.org.
Thank you for allowing the Heart of Jasper team to work with you!
Kate Schwenk