Will Read and Sing for Food to benefit Heart of Jasper
---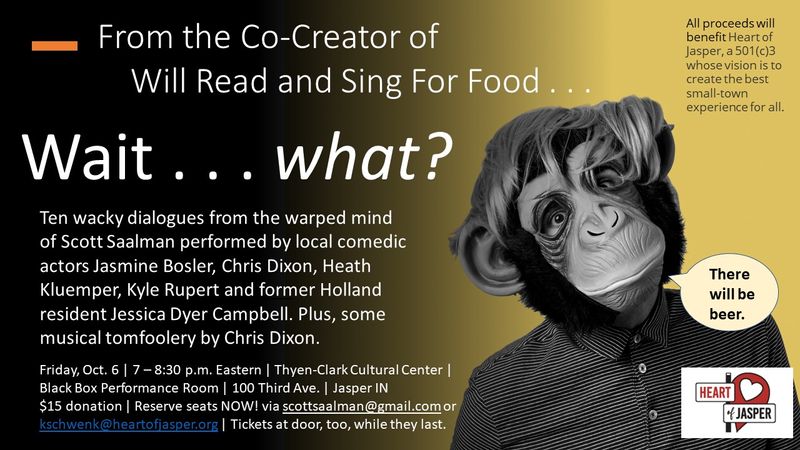 Heart of Jasper is excited to play a role in a new live comedy show (with some music) called "Wait . . . what?
The show will debut at 7 p.m., Friday, Oct. 6, at The Thyen-Clark Cultural Center.
The show entails 10 humorous Acts involving local actors Chris Dixon, Jasmine Bosler, Kyle Rupert, Heath Kluemper, and former Dubois Countian Jessica Dyer Campbell. The stories (consisting mainly of dialogue in the style of a radio stage show) were written by Scott Saalman, founder of Will Read and Sing For Food, which has raised $170,000 for dozens of charities, mostly in Dubois County. Scott will also participate in a few of the acts and somehow he has convinced me to be in one as well…yikes!
While Wait . . . what? is very heavy on humorous stories (we can all use some good laughs right now), there will be musical interludes featuring Chris Dixon, who won this year's WITZ Guitar Pull contest during Strassenfest.
All proceeds will go to Heart of Jasper. You can contact me or Scott Saalman ([email protected]; 812-827-9911) for reserved seats. Admission is $15 per seat.